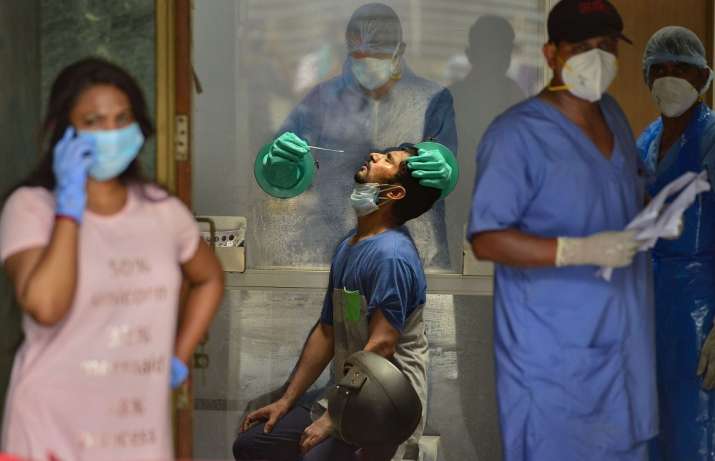 Read Time:
2 Minute, 18 Second
India has registered close to 30,000 COVID-19 cases in the last 24 hours, taking the overall tally to 9.36 lakh. As per the latest figures issued by the Ministry of Health and Family Welfare (MoHFW), there have been 29,429 cases of coronavirus in the last 24 hours while the death toll has notched up to 24,309. 
The figures indicate that India's COVID-19 recovery rate has now notched up to 63.24 per cent. 
This has been given a boost by the increasingly brighter looking situation in the national capital. New Delhi currently has under 19,000 COVID-19 cases which is a vast improvement from a month ago when the situation was looking grim. 
| Name of State / UT | Active Cases | Cured | Deaths | Total Confirmed cases |
| --- | --- | --- | --- | --- |
| Andaman and Nicobar Islands | 57 | 109 | 0 | 166 |
| Andhra Pradesh | 14274 | 16464 | 365 | 31103 |
| Arunachal Pradesh | 240 | 145 | 2 | 387 |
| Assam | 5876 | 10894 | 36 | 16806 |
| Bihar | 5482 | 12317 | 160 | 17959 |
| Chandigarh | 157 | 423 | 8 | 588 |
| Chhattisgarh | 996 | 3202 | 19 | 4217 |
| Dadra and Nagar Haveli and Daman and Diu | 226 | 268 | 1 | 495 |
| Delhi | 19017 | 91312 | 3411 | 113740 |
| Goa | 1026 | 1540 | 17 | 2583 |
| Gujarat | 10897 | 29770 | 2055 | 42722 |
| Haryana | 4984 | 16602 | 308 | 21894 |
| Himachal Pradesh | 292 | 940 | 11 | 1243 |
| Jammu and Kashmir | 4545 | 6095 | 187 | 10827 |
| Jharkhand | 1514 | 2351 | 33 | 3898 |
| Karnataka | 24576 | 16248 | 757 | 41581 |
| Kerala | 4032 | 4257 | 33 | 8322 |
| Ladakh | 146 | 946 | 1 | 1093 |
| Madhya Pradesh | 4336 | 13208 | 663 | 18207 |
| Maharashtra | 105935 | 144507 | 10482 | 260924 |
| Manipur | 656 | 970 | 0 | 1626 |
| Meghalaya | 250 | 66 | 2 | 318 |
| Mizoram | 82 | 151 | 0 | 233 |
| Nagaland | 505 | 340 | 0 | 845 |
| Odisha | 4412 | 9255 | 70 | 13737 |
| Puducherry | 665 | 785 | 18 | 1468 |
| Punjab | 2388 | 5586 | 204 | 8178 |
| Rajasthan | 5781 | 18630 | 525 | 24936 |
| Sikkim | 106 | 86 | 0 | 192 |
| Tamil Nadu | 48199 | 92567 | 2032 | 142798 |
| Telangana | 12177 | 23679 | 365 | 36221 |
| Tripura | 603 | 1475 | 2 | 2080 |
| Uttarakhand | 703 | 2856 | 49 | 3608 |
| Uttar Pradesh | 12972 | 24203 | 955 | 38130 |
| West Bengal | 11279 | 19213 | 956 | 31448 |
| Cases being reassigned to states | 2179 |   |   | 2179 |
| Total | 311565 | 571460 | 23727 | 906752 |
Latest News on Coronavirus
Latest India News
Fight against Coronavirus: Full coverage




Source link