Read Time:
2 Minute, 12 Second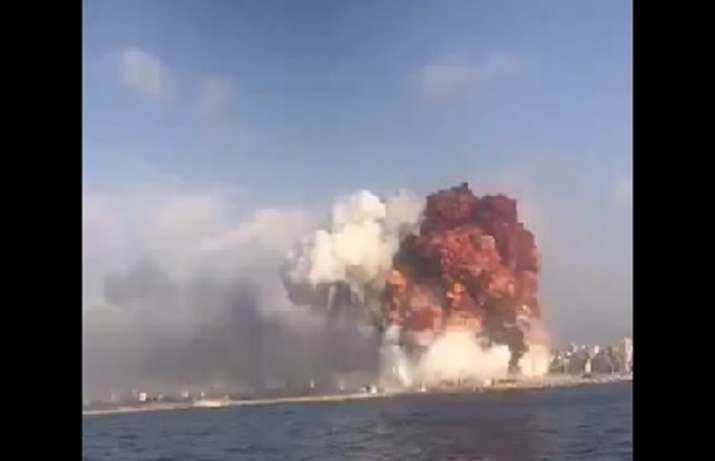 Two major explosions rocked Lebanese capital Beirut on Tuesday. At least 10 people were reported dead in the explosions, local security and medical sources told Reuters. 
According to RT news, the first explosion struck the city's port area after 6pm local time. Videos captured the shockwave striking building kilometers away. Another blast took place in the city center. Footage being circulated online shows what appears to be two distinct smoke plumes within the affected area, the report mentioned. 
The blasts were blamed on a "fireworks accident", according to the report. 
Meanwhile, Lebanon's Ministry of Health instructed all available hospitals to prepare to receive the wounded, while the country's health minister said on TV that there are a "very high" number of injuries. 
Reports also emerged of hospitals turning away the injured due to lack of capacity. Local media have asked the public to donate blood. Over 30 red Cross teams are responding at the scene of the blast.
This is, indeed, a HUGE blast! Hopefully nobody got hurt!#BeirutExplosion #LebanonExplosion

MORE: https://t.co/k001zUvFum pic.twitter.com/jQECQ2at74

— RT (@RT_com) August 4, 2020
Scary visuals emerged from the blast sites wherein a massive mushroom cloud of dust and debris shot into the sky. Images showed shattered glass and ceiling caved in at the city's airport, located some ten kilometers from the port. 
DEVELOPING:
Explosion in #Beirut from another angle. The cause of the blast is unknown, but video footage captured the devastation wreaked on the city.

MORE: https://t.co/k001zUvFum pic.twitter.com/zXSQIvcxpY

— RT (@RT_com) August 4, 2020
Explosion in #Beirut #Lebanon – view from Annahar building. Praying for everyone's safety 🙏🏼😓 pic.twitter.com/Zf6fXaahUq

— Fady Roumieh (@FadyRoumieh) August 4, 2020
A Twitter user said it looked "like the end of the world". 
This looks like the end of the world in Lebanon.

Shocking first video emerges after #Beirut explosion.pic.twitter.com/pHy3iUIGar

— Ahmer Khan (@ahmermkhan) August 4, 2020
Latest World News
Fight against Coronavirus: Full coverage




Source link